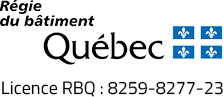 Entreprise Ployard 2000 Inc. installs all types of guardrail systems throughout the Province of Québec. Thanks to our expertise, we guaranty you a courteous, fast
and efficient service at all stages of your project, from your order intake, the guardrail installation process and our after-sales service.
Are you searching for a more aesthetic and appealing product than the conventional guardrail?
Entreprise Ployard 2000 Inc. developed a brand-new product that will meet your needs!
Indeed, our architectural mixed guardrail (wood beam) is made of a combination of steel and wood of easily accessible size, easy to install and maintain.
Note: These new systems are not approved or licenced by the Ministère des Transports du Québec. Therefore, they cannot be used on highways or numbered roads with a speed limit above 50 km/h. They are reserved for scenic roads or roads with a speed limit of 50 km/h and less only. It is important that the soil under the guardrails be suitable to their installation: absence of very large rocks or construction debris, any other material unsuitable for the installation of steel or wood posts. The layout must also provide a minimum clearance of 500 mm behind the guardrail to ensure stability. They cannot be installed to mark a cliff or to delineate a lookout overhanging a steep slope. No reflectors are provided for these systems.