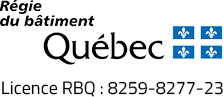 Produits Gifab Inc. is a Québec company specializing in the manufacturing and distribution of guardrail end terminals, connections, fittings and other guardrail accessories.
Depending on the various speed limits and different projected uses, the choice of the right guardrail end terminal must not be taken lightly. Public safety
often depends on a guardrail system that is well adapted to its environment. This is why all our guardrail end terminals comply with the most recent norms and standards of the
Ministère des Transports du Québec. Our products are periodically reviewed to ensure that they are always at the cutting edge of the latest technology and remain
compliant with the latest norms and regulations in effect.
Whatever your needs may be: standard, round, half-round or median end terminals, Produits Gifab Inc. is a reliable source of supply for any guardrail installation projects.
Produits Gifab Inc.'s guardrail end terminals and accessories are made entirely of galvanized steel. We will adequately advise you on the right choice of product, according to your needs,
the projected use, as well as all norms and standards in effect. Contact us today for further details.