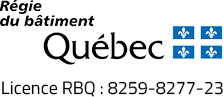 Entreprise Ployard 2000 also excels when it comes to installing guardrails for bicycle paths.
Submit your project and we will find and offer you the solution that best suits your requirements.
Whether you are an engineer, a promoter or simply planning a project, our team will be able to guide and advise you in the development and implementation of the guardrail
system you need. Our knowledge of current norms and standards and our experience in the industry make us your collaborator of choice for the road safety portion of your project.
Do not hesitate to contact us.